The needs
WWO makes it their mission to reach out to orphans, children and youth living in adversity in institutions as well as in communities.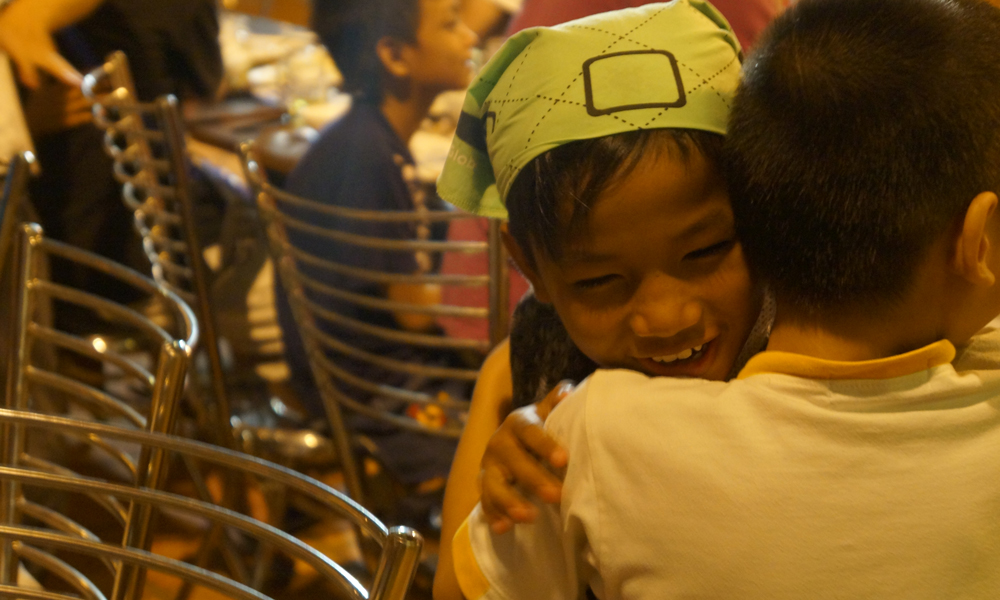 Orphans in Vietnam
Orphan-hood is the state of life for children who have lost one or both parents. Due to the lack of access to services and care, orphaned children, more often than not, are at high-risk for child exploitation, child trafficking, drug abuse, homelessness, and a life in institutions. However, more and more "social orphans" whose parents are still alive are found in society, who experience even more hardship than an orphaned child.
Statistics from the Vietnam Ministry of Labor, Invalids, and Social Affairs in 2008 indicated that in Vietnam there are more than one million, six hundred thousand orphans and children living in hardship, of which 143,000 are orphaned from all causes.​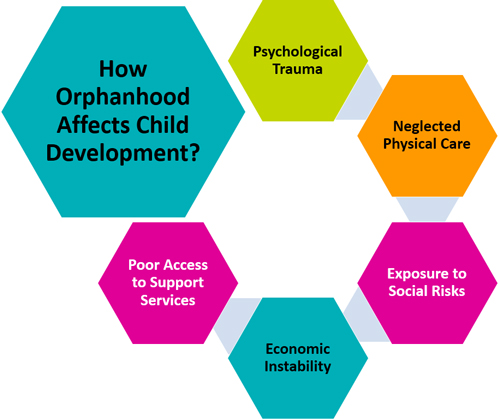 Children and Youth Living with HIV/AIDS
​The plight of children and youth living with HIV is precarious and heart-wrenching. Even though the Vietnam national health coverage had begun distributing ARV medications and treatments at no cost for its HIV/AIDS+ population, many children and youth still struggle to gain access to service due to the lack of proper documentation. Discrimination and social stigmatization caused some to become depressed and even refuse treatment due to loss of hope.
Statistics from UNAIDS in 2015 indicated that across Vietnam there were:
3,900 to 6,100 Children Aged 0-14 and 230,000 to 290,000 Adults/Adolescents Aged 15 and Older Living with HIV. Additionally, about 54,000​ children have become orphans because of AIDS
"Better Services, Stronger Support Network, and Deeper Understanding: It is a promise that WWO made to children and youth living with HIV in Vietnam since 2004. We are still carrying it out rigorously everyday today"
Children and Youth Living with Disabilities or with Special Needs
​According to statistics comprised and released by GlobalDisabilityRightsNow.org, there were 1.2 million children and youth aged from 1 to 19 who are living with a disability in Vietnam. What's more, 75% of them live in the rural areas with limited or lack of access to support services.
WWO program for Children and Youth with Special Needs focused on preschoolers and school-aged children at special needs boarding schools and those in hard-to-reach rural communities across Vietnam.
Life Cycle Approach
​Raise awareness for adult caregivers to practice preventative healthcare for EARLY PREVENTION
Provide baseline assessment of any potential anomaly in child development for EARLY DETECTION
Create an enabling environment in schools and at-home for children to receive therapy regularly for EARLY INTERVENTION and SOCIAL INTEGRATION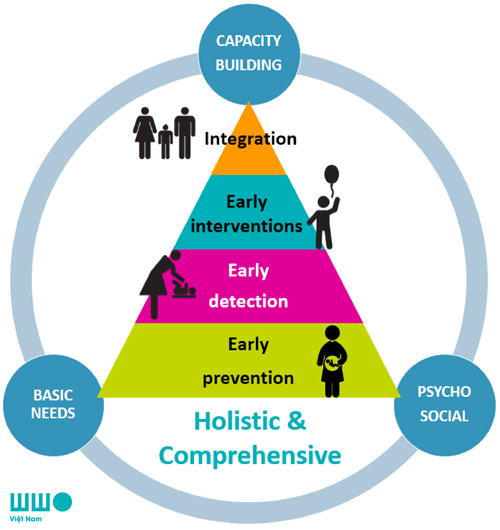 Phung's Road to School
Take the example of Phi Phung, an 8 year-old girl in our program who is overcoming her physical challenges to attend primary school. She suffers from mobile impairment and epilepsy due to a brain hemorrhage at age five.
WWO walked the journey to recovery with Phung and her family: Our medical adviser gave Phung a new diagnosis, nutritional supplement, and arranged for a custom-made helmet to protect the vulnerable areas of her skulk from accidental impact. Our physical therapist taught Phung's parents motor exercises to practice with her at home. Our social worker paid home visits on a monthly basis to intervene timely and monitor Phung's progress.
Never Giving Up Hope
In Ben Tre province, WWO started a community-based project for children with disabilities at very hard-to-reach locations. ​​When Dr. Oanh – our medical adviser – and WWO community team first came in 2016, many children had been idling for years without any intervention. ​Their families just tried to keep them alive.
Dr. Oanh fought back the psychological resistance and insisted to give these children every kind of support possible. Each family was then treated as a project unit, where everyone would make special effort to raise the children from their sick beds: parents, caregivers, therapists, doctors, case workers, local authorities. The result is a phenomenal transformation. One year after, kids are walking again and going back to school. Every time we visit the community, there is another reason to keep believing.
Children and Youth at High-Risk
An Equal Footing for The Future
With the passage of time, children in WWO program since 2004 have grown and begun to face new challenges as young adults. It is only natural for us to grow with them and develop a support system for at-risk adolescent and youth.
We also reached out to youth living in institutions and hard-to-reach community who are departing homes and centers without the necessary skills and knowledge for the workforce, marriage life, and in general being independence.
According to statistic released by the Vietnam Ministry of Labor, Invalids, and Social Affairs in 2008, across Vietnam there were:
16,000 Street Children and Youth
14,600 Children and Youth Living in Institutions
4,600 – 12,200 Youth Using Drugs
15,000 – 20,000 Youth Engaging in Commercial Sex Work
WWO Young Leaders
At WWO Vietnam, in addition to comprehensive support services in health, psychosocial and education, youth also learn life-skills to manage their daily life efficiently, receives vocational training through our partner schools, and joins the ​​ young leaders' incubator to give back to their community at a new capacity. They are entitled to an individual start-up fund that further supports their transition to adulthood.