Quality check for effectiveness of interventions
WWO Vietnam Statement of Commitment
WWO Vietnam believes in good practices to ensure quality in our performance and fidelity to program interventions. As we invariably work in partnership with local service providers, the ultimate goal of our programs is the transition of intervention models and best practice. We also seek to empower our partners to lead in the efforts to affect positive change in vulnerable children and families and take full ownership of the intervention as WWO transitions to new areas of need.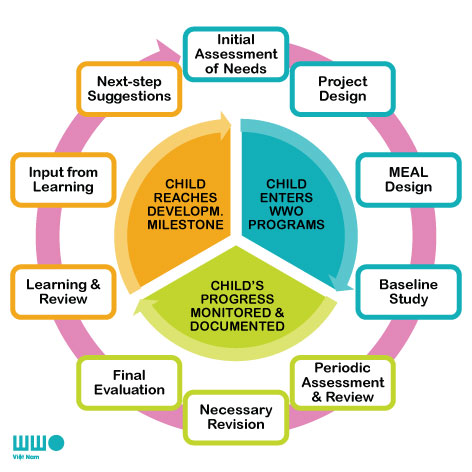 In order to facilitate the transition, an effective and fully functioning system of Monitoring and Evaluation is in place at the beginning of each partnership. Partners are expected to play an active role in the entire project cycle, including identifying needs, implementing and monitoring quality of interventions, and conducting periodical review and evaluation with support from WWO.  WWO and its partners are fully committed to accountability for transparency, compliance and good governance of the programs.
At the end of a project or an intervention, lessons learned will be documented for knowledge management and learning, and sharing. WWO believes that all stakeholders including program beneficiaries are entitled to access information we have learned from the interventions we conduct. Recent evaluation shared that all partners could make comprehensive change in their organizations as an impact of the projects carried out jointly with WWO. This is a good reward for our hard-working team.
The following Key Results of Our Interventions have been shared at various events.